"Creature Botaniche: Piante e Forme Umane Congiunte" opened in April 2012 at Castello di Galeazza, Pepoli, Emilia-Romagna, Italy with more than 30 prints and light forms. Creatura Botanica: Human and Plant Forms is a show of mixed media prints that incorporate digital and traditional physical printmaking processes. The "human form" photographs are printed with a digital pigment-based printer and the embossed botanical impressions are pulled on etching presses. The photographs and collagraph prints were printed in my studio in Belfast, Maine and then were mounted on stretched canvas and with raw bees wax on grommeted canvas in Crevalcore in preparation for the show. The prints on canvas stretchers were hung in one of Castello's dining rooms, while those fused to grommeted canvas with burnished encaustic hung in the transformed castle stables in stalls, entry ways and arched vestibules. 10 light columns (which you will not see in these pages) were set out in the gardens and illuminated at night by candle light (see http://www.dinapetrillo.com/the-human-tracks-project). In May 2012 the castle complex was destroyed in the earthquakes that shook the region north of Bologna. The prints were salvaged and hang at Corte Eremo, Mantova, the new home of the hosting organization Reading Retreats in Rural Italy run by Clark Lawrence. The pictures you see here, while incomplete, are the only ones taken of the show before the collapse. A link to curator's notes and show statement can be found at "Creature Botaniche: Piante e Forme Umane Congiunte".
---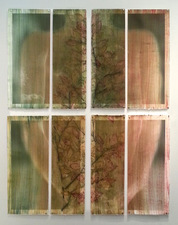 Creatura: In Limbo
In October of 2013, prints from Galeazza and Mantova recombined with older and newer works on paper and we presented Creatura: In Limbo at Betts Gallery in Belfast, Maine.
---
High Relief Collagraphic Monoprints with Chine Colle Collagraphic monoprints, also called "collagraphs", are one-of-a-kind prints. No two prints pulled from the same plate are exactly the same. Prints tend to vary widely because of the way they're printed using a hybrid method that combines both intaglio and relief processes. Together these processes create a number of opaque and translucent layers of color and texture. The result is a deeply embossed print that holds both a physical and visual impression of the plate. All prints are archival and made with 100% cotton rag and kozo papers.
---
Light Forms and Lamps My light forms are illuminated sculptures, some are cylindrical, some are flat, all are hand-printed with rich color for a deep emboss in kozo paper. Luminiares are suspended as pendant lanterns, sconces, and torchieres with delicate translucent papers wrapping featherweight steel armatures while window prints and light curtains are pressed like botanicals between glass. Lit with both electrical and natural light they become glowing membranes. It's been said that staring into them is akin to firelight. Inspired by Chinese lanterns and Noguchi's Akari light sculptures, these light forms combine Bauhaus-like simple utilitarian forms and Arts and Crafts decorative motifs with print imagery that shares the German and French Symbolists' love of nature forms, deep color an dream imagery. They are eclectic and coalesce my enthusiasms for figurative and vessel sculpture, photography and painting in mixed media. Note about construction: Despite their fragile appearance these luminaires are tremendously durable. The printed kozo is fused to woven Dacron sailcloth with encaustic (a medium of raw bees wax and damar resin). The skins are then sown to the steel armatures with sail thread (waxed marlin) The encaustic medium makes the prints very stable with colors that remain vibrant. Versatility in design and use: Lamp shades can be made in any number of shapes and sizes with various combinations of colors and motifs. Armatures can be adapted for use as sconces, pendants, torches and regular floor lamps. Pendants may be plug-ins or made for hardwire canopy. We can also adapt for ceiling and wall track lighting. Window prints can be made in near endless variety.
---
---
---
---
---
---
---